Renewing and Requesting Library Materials
Main Content
Ways To Renew Library Items
SIU items and items from I-Share libraries via "My Account" in I-Share. Please See Instructions below.
Items from non-I-Share libraries (interlibrary loans) in your Interlibary Loan account or by calling Interlibrary Loan at 618-453-3374.
Any items in person at the Circulation Desk. You do not need to have the items with you, but you must present your SIU ID.
Via telephone (618-453-1455). Phone renewals can be made during regular library hours.
If you are unable to renew your items or have items that were checked out manually, they must be renewed by library staff either by calling 618-453-1455 or going to the Circulation Desk.
For loan periods and further details, see the Morris Library Circulation Policies.
How To Renew Morris Library Items and I-Share Items
To renew Morris Library books or items borrowed from I-Share, you will need to login to your I-Share account. To login into your account, in the "I Want to ..." box at the center of the library homepage you will see an option to "Renew library materials."
From there, chose ""My Account" in I-Share".
Once you have selected I-Share, it should take you to this screen: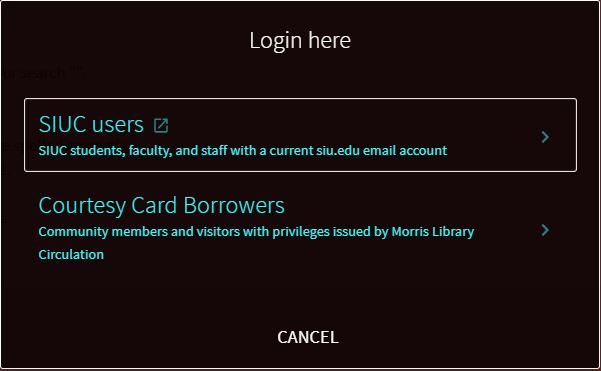 For SIU students, faculty, and staff to login, you will use your SIU Dawgtag Number and your Salukinet Password. If you are a Courtesy Card Borrower, your login information was assigned when you purchased your card. Please refer to the information on your card or contact Library Circulation services for assistance at 618-453-1455.
Now that you have logged in, you should see a page that looks like the image below. To the left is a list of all the universities from which you've received items. The clipboard next to the university name indicates an active loan. You will need to click each individual university's name to see the items you have borrowed from them and renew the items. 
In the center of the screen the titles of the loans from that university are displayed. Please note that items that are due soon show a red clock icon and are highlighted.
The easiest option is to simply click the "Renew All." This only renews your items for the selected university—you must do this for each library with active loans.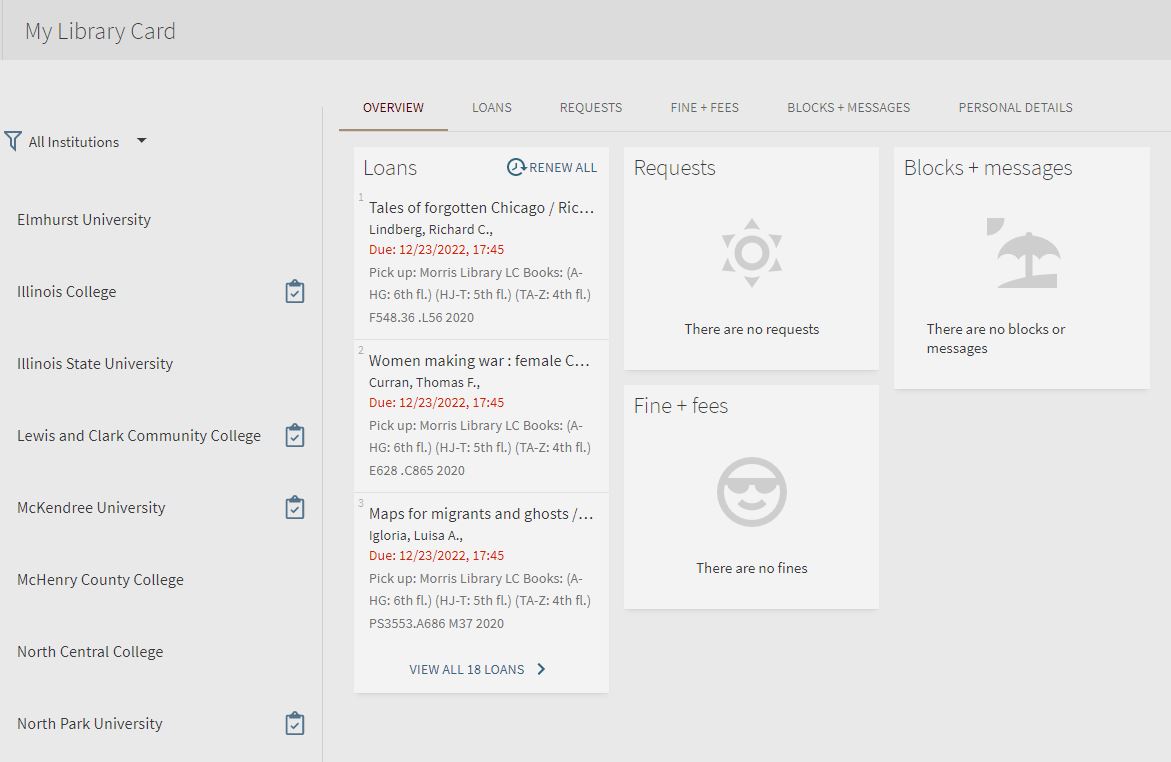 While in your I-Share Account, you can also check for outstanding fines/fees, blocks, and pending requests. You can also review your personal details section to ensure that we have the most accurate information.
If you have problems renewing, please contact Morris Library's Circulation department at 618-453-1455.
Requesting Morris Library Materials
All Morris Library users with borrowing privileges can request items from our collection using our online catalog. We print requests twice a day and retrieve the items from our stacks for patrons. Requests made by 1PM, are generally ready by 4PM the same day. Once an item is ready for pickup, you will receive an email that looks like the image below.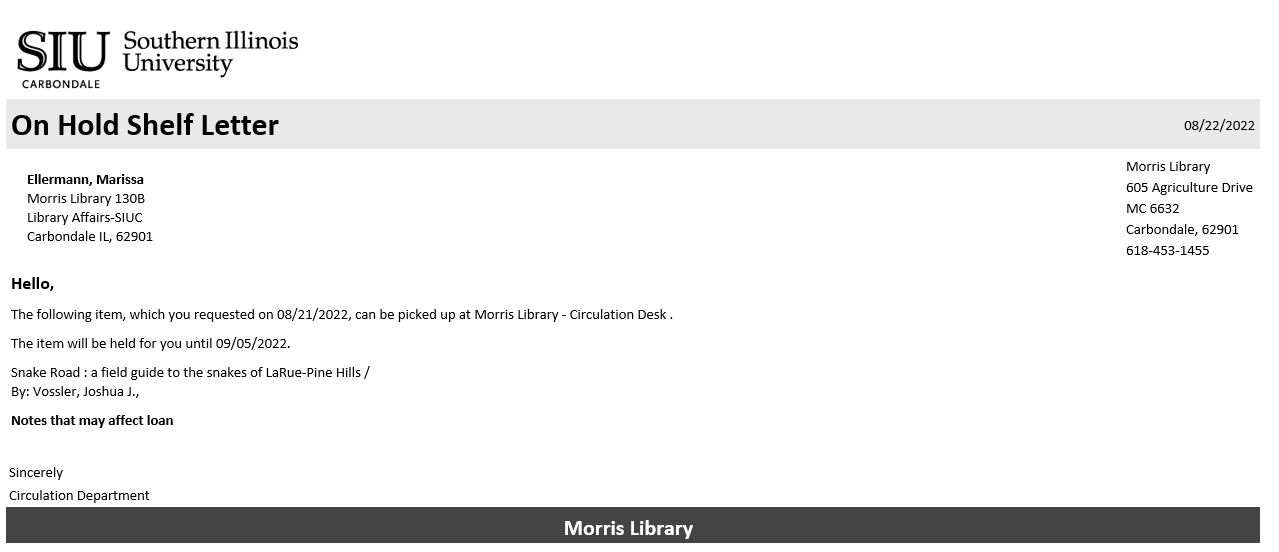 Once you have received this email, you can come to the Morris Library Circulation Desk and pick up the item. We will hold the book for you for two weeks. After that time period has elapsed, we will return the book to the shelf.
To check out your items you will need your student ID, Courtesy Card, or a State Issued ID.