Coronavirus Closure FAQ
Main Content
Table of Contents
Is Morris Library open?
Beginning Monday, January 25, all of Morris Library's floors will be open for students to study. We have worked hard to creatively provide services to our users but at the same time protect the health and safety of the campus community. We continue to offer access to our resources online and extended hours of online reference services. All library stacks are closed unless you have a research appointment. Circulation will retrieve physical materials and provide contactless pickup. Some library departments offer in-person services by appointment. Entrance and exit to the library will be through the north gate. The south doors will only be used by individuals arriving for scheduled appointments.
Check our current hours before heading over to ensure access.
In order to keep our students safe, Morris Library will not provide print course reserves. We will assist faculty by making scans from our local holdings that can be made available to students via D2L.
Campus IT's Computer Learning Centers offer more computers and printers. The Student Center provides further WiFi access and study space.
For Online Assistance:
How can I access Morris Library materials?
Request materials
Morris Library physical items are available by request, through our online catalog. Login with your network ID and password. Once you identify the item you want, use the request button under the Get It label as shown below.
We process requests on this schedule:
Monday-Thursday:
Requested by 8am – Available by 11am
Requested by 11am – Available by 1pm
Requested by 1pm – Available by 3pm
Requested by 3pm – Available by 7pm
Friday
Requested by 8am – Available by 11am
Requested by 11am – Available by 1pm
Requested by 1pm – Available by 3pm
Items requested after 1pm Friday will be available by 1pm Sunday
Saturday - Closed 
Sunday
Requested by 11am - Available by 1pm
Requested by 1pm – Available by 3pm
*Storage items are only retrieved once per day. Any request received after 10am will be available the next day.
This schedule is fixed, but if we cannot locate the item you requested it will obviously not be available by the anticipated time. Please monitor your email for the notification that the item has been successfully retrieved and is ready for pickup. If we determine that the item is temporarily missing, we will route requests into I-Share to obtain a copy for you.
The items will be pre-checked out to your account and you can simply pick them up. They will be on a book cart inside the Delyte's study area and available all hours the area is open. Items are available for pickup for 2 weeks only. Items not picked up will be removed from your account and quarantined for return. During the 5 day quarantine, the returned items will not be removed from your account.

You can also request a scan of a chapter from one of our books or of an article from one of our physical journals. Once you have the full citation for the article or chapter you want, submit a request via interlibrary loan.
Requests for articles or book chapters we don't own will also be processed via interlibrary loan, but due to library closures still in effect across the country this service may take longer. We ask for patience as your request is processed by lending libraries and please don't submit duplicate requests as they will be deleted.
If you wish to borrow an item that for some reason does not have the request option in the catalog, please email Marissa Ellermann (mellermann@lib.siu.edu) or Steven Sawyer (ssawyer@lib.siu.edu) for assistance
For help accessing library resources from off-campus, see our help guide or contact Ask-A-Librarian.
For help with our new catalog and its features, see our FAQ on the topic.       
Courtesy cards for community members are available.


Renew Books
To renew Morris Library books or items borrowed from I-Share, you will need to login to your I-Share account. To login into your account, at the bottom of the library homepage you will see an option for I-Share in the box labeled "Your Accounts" as seen below. 
Once you have selected I-Share, it should take you to this screen: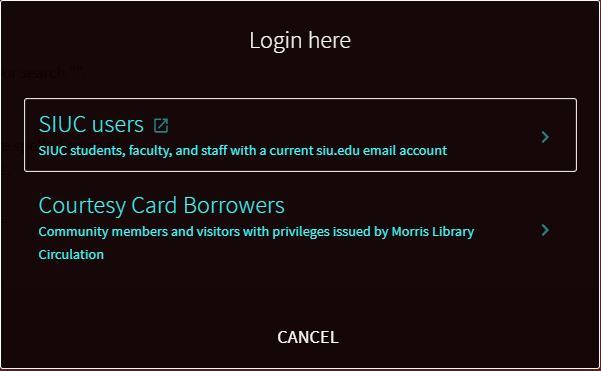 For SIU students, faculty, and staff to login, you will use your SIU Dawgtag Number and your Salukinet Password. If you are a Courtesy Card Borrower, your login information was assigned when you purchased your card. Please refer to the information on your card or contact Library Circulation services for assistance at 618-453-1455.
Now that you have logged in, you should see a page that looks like the image below. To the left is a list of all the universities from which you've received items. The clipboard next to the university name indicates an active loan. You will need to click each individual university's name to see the items you have borrowed from them and renew the items. 
In the center of the screen the titles of the loans from that university are displayed. Please note that items that are due soon show a red clock icon and are highlighted.
The easiest option is to simply click the "Renew All." This only renews your items for the selected university—you must do this for each library with active loans.
While in your I-Share Account, you can also check for outstanding fines/fees, blocks, and pending requests. You can also review your personal details section to ensure that we have the most accurate information.
If you have problems renewing, please contact Morris Library's Circulation department at 618-453-1455.
Research Access Appointments
At present, our physical stacks are closed, but do you need physical access to Morris Library's collection? If so, please fill out this form to request access. If your request is approved, we will make an appointment for you to have access to Morris Library's physical collections for up to 3 hours at a time.
Note: This service is intended exclusively for specific and well-defined research needs that cannot be reasonably fulfilled any other way. Example research needs include, but are not limited to:
Reviewing a large run (e.g. 15 years) of a physical journal title.
Searching a large run of microfilm for a specific newspaper article.
Appointments are generally available Monday through Friday between 9:00am and 4:00pm and Sunday between 1:00pm and 3:00pm.
What is the status of I-Share?
Because of COVID-19, many libraries around Illinois are unable to lend physical items through I-Share, limiting the availability of some materials.
The list of libraries currently participating in I-Share lending can by found on I-Share's website.
Do note that this situation is in flux, so the list of participating libraries can change without notice.
I have books currently checked out to me from Morris (or another library). I don't want to come to Morris to return them – how do I avoid any overdue fines?
Log in to our online catalog to renew Morris Library or I-Share items.
Interlibrary Loan books (with pink band on cover) are borrowed from all over the world so due dates and renewal rules vary. You can request a renewal through your interlibrary loan account, but if the lending library doesn't approve the renewal, you must return the item to Morris Library. Refer to the next section for instructions on how to return items.


I returned my books to the library - when will they be removed from my account?
All items returned to Morris Library undergo a five-day quarantine period. After the fifth day, we will discharge the item and return it to circulation. You will receive a "Return Receipt Letter" via email. If you are concerned that an item is still on your account, please call library circuation at 618-453-1455 for assistance.
How do I return my books to Morris Library during the COVID-19 closure?
If you are still in Carbondale, you may return items to the bookdrops located in the North entrance of the building.
If you are not currently in Carbondale, you can return items a couple of ways. If you are in Illinois, the easiest way to get items back to us would be to return them to your nearest I-Share library. If you don't know where these libraries are located, you can consult this map.
Students with laptops may not use this option to return their laptop and charger to us. They must be returned in-person or via mail.
If you are out-of-state or not near an I-Share library, you may mail the items back to us. The cheapest option is to ship items to us using the Media Mail rate at the US Post Office. To estimate your cost to ship, you should weigh the box with the books inside and compare it to the post office's chart on their website.
If you choose to mail items back, you are strongly encouraged to purchase insurance from the post office. The price is very reasonable and borrowers are responsible for the replacement cost of materials lost in transit.
Items coming in from other libraries or returned in the book drop are all quarantined for 5 days, during which their status on your account will not change.
What materials are available online?
All of our online journals and articles remain available.
Morris Library also offers access to a large collection of ebooks through its library catalog, with other sources listed at http://libguides.lib.siu.edu/ebooks. This selection includes open access textbooks.
Our streaming video collection includes over 68,000 videos from Alexander Street Press covering history, performing arts, art, architecture, nursing, criminal justice, counseling, education, rehabilitation, sports medicine and exercise science. Videos may be shared with other SIU users by clicking "Cite" and then "Copy Permalink".

Multiple publishers currently offer temporary access to their online collections due to COVID-19.
What does the Morris Library computer lab in Room 139 offer?
The computer lab in room 139 continues to be available for use during the pandemic. We rely on users to self-clean the keyboards, mice, and chairs prior to their use. Tables are cleaned on a daily basis by building services staff.
The computers all have Internet access and are loaded with the following software. Users cannot install additional software.
Windows 10
MS Office 2019
Adobe Acrobat Reader DC
Google Chrome Browser
IBM SPSS Statistics 25
IE Browser
Respondus LockDown Browser
Microsoft Media Player
VLC Media Player
Wordpad
Notepad
Zoom
The computers in Classroom 139 do not have external speakers and users need to bring their own earbuds or headphones to hear audio.
A printer is available for use.
The machines do have built-in cameras that work with Respondus Lockdown Browser. However, these cameras are NOT compliant with test that require a movable webcam to prove the area is secure.
Campus IT's Computer Learning Center's hours vary by location. Please review their hours before setting out for one.