Main Content
Search our
Library Catalog
Articles & Databases
Journals
Rare Books & Archives
Streaming Video
Group Study Rooms
---
We're Hiring Student Workers!
Morris Library is seeking students to work with us. Visit our Employment pages to learn more and for instructions on applying.
---
---
Fall Laptop Checkout Makes a Bigger Difference with New Machines
A recent donation of nearly 50 laptops to Southern Illinois University Carbondale's Morris Library by Schneider National, Inc. in helping augment students' educational opportunities.
The library lent 117 laptops for the fall semester on a first-come, first-serve basis.
The additional laptops will "make a significant difference to our students' ability to succeed and remain enrolled" and is in line with the university's mission of working to ensure student success, Dean of Library Affairs John Pollitz said.
"I'm so impressed with how Marissa saw an opportunity to bring a new group of laptops into our collections and refresh the laptops in our supply," Pollitz said. "Many of our students need assistance meeting the costs related to completing their education. Computers are very expensive tools that they need to reach graduation. This support from Schneider helps our students succeed by mitigating one of the expenses that come with a university degree.
"We are overwhelmed by Schneider's generosity. They are helping our students succeed at SIU and achieve their full potential."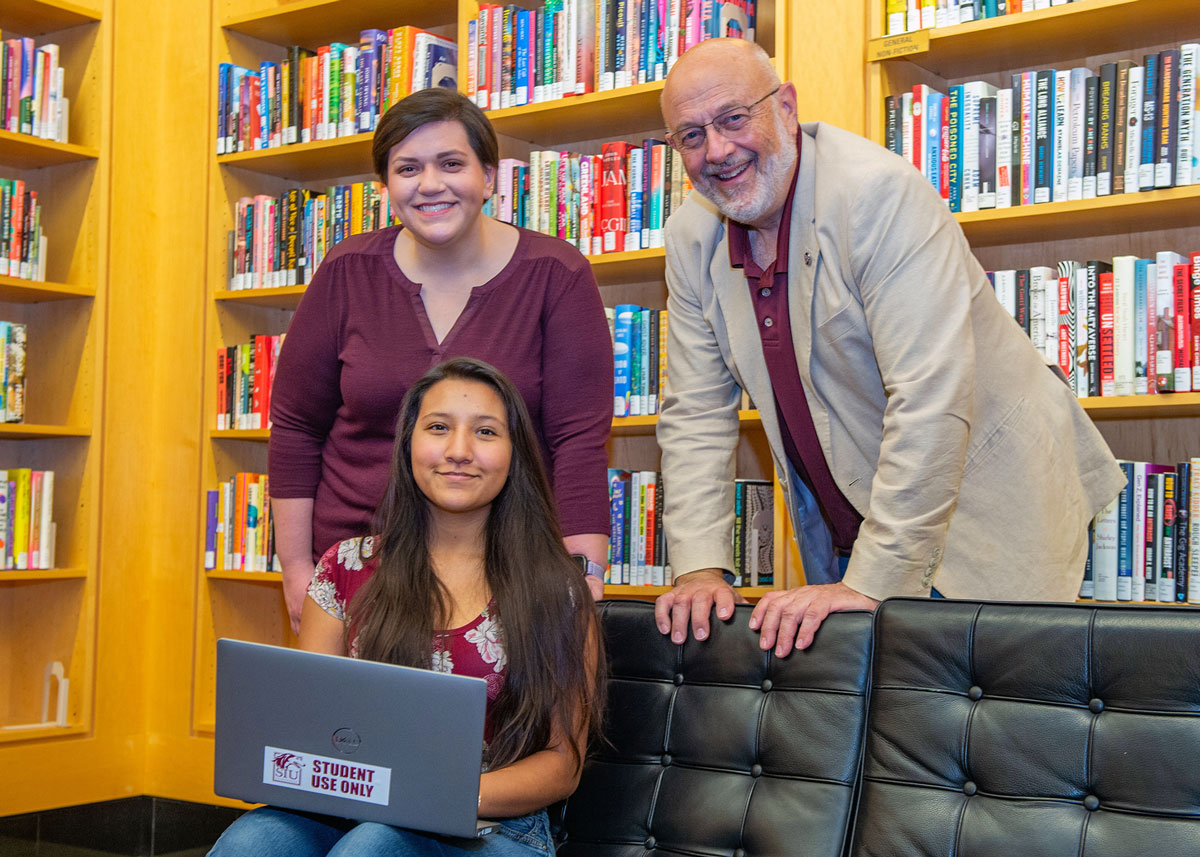 Elisa Lopez, a junior in marketing who is also a student worker in Morris Library, shows off one of the laptops the library has available for students to utilize during the semester. With Lopez are Marissa Ellermann, an associate professor of practice and head of Circulation Services, and John Pollitz, dean of Library Affairs. (Photo by Russell Bailey)
---
Access to U of I Press Journals Increases
SIUC students and faculty now have full access to 39 new academic journals in disciplines like European studies, philosophy, education, music, psychology, and more through the Morris Library, thanks to a partnership between the University of Illinois Press and CARLI (the Consortium of Academic and Research Libraries in Illinois). Check out the expanded offerings in our catalog or talk to a librarian for assistance.